We make movies.
We think scripts up, we write and re-write, we east, we locate, we crew up. we shoot, we don't sleep at night, we reshoot. We postproduce, we deliver. Just like every independent filmaker out there. And in the end, - no matter what, where, who, how - the movie gets slapped with a sku number.
Our website design team is starting to specialize in writers' websites! After we created from scratch Joan Chevalier's site, www.joanchevalier.com, Sharon Harrigan is the latest writer to come to us for a website uphauling. www.sharonharrigan.net
Sharon, who writes a wonderful blog full of freshness and sharp observations, wanted to add more functionality to her website, for her readers and for her own publishing needs. Fitting our social media-connected times, she required a site that could interact with Facebook, allow subscribers, and also let her see blogpost traffic. The new site is easy to navigate, mobile-friendly, and also has a sleek, contemporary new look. After seeing it Sharon shot us an email with her very first impression:
"Wow, the publications page looks fantastic! And not just because my old version looked so terrible. I'm blown away!"
We're glad she was! We also created a site guide for her, to make it easy for her to start publishing on the new site right away. Sharon seems to enjoy using her new blog – she wrote, "I'm actually kind of knocked out of my chair with delight. Love it. It's amazing!"
The new website: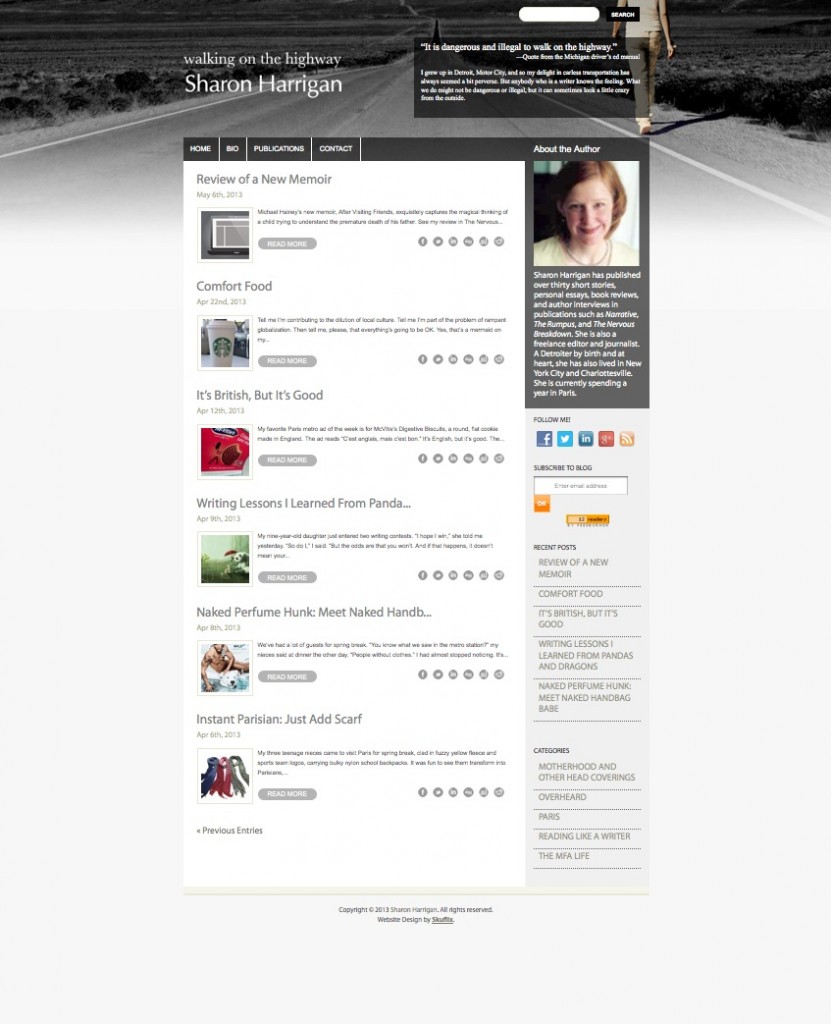 Sharon's old site: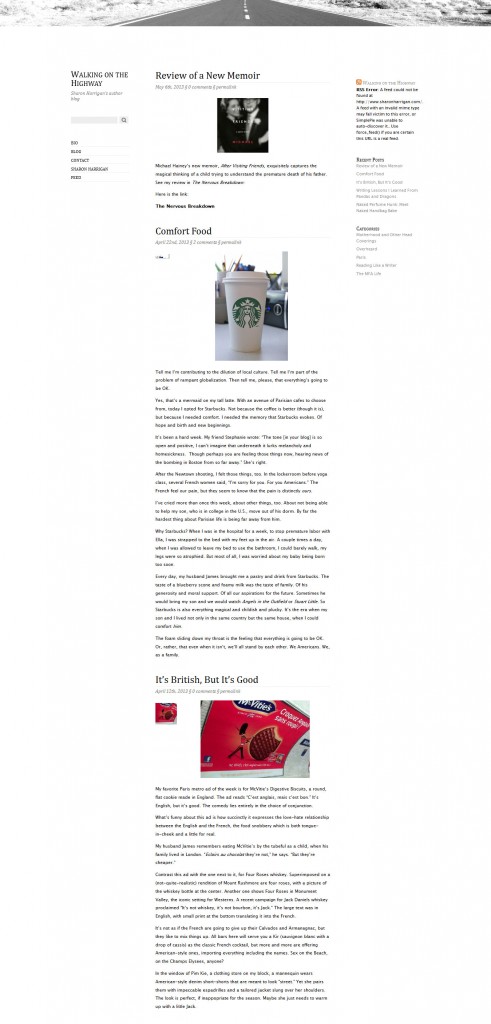 We recently discovered a great online service called Amara, which allows anybody online to add subtitles to a Youtube video in any language they want, and in just a matter of minutes.
The service is simple- watch a video and type out what is being said, then sync up the text and you're done!  This has great potential for spreading videos among a larger worldwide audience, and gives everyone the opportunity to use their knowledge and language skills to help out.
We have already added English subtitles to the VODKA ROCKS! 0% Alcohol Vodka Reveal video to test out the program and help show what is being said.  The process was extremely simple, enjoyable, and had a satisfying outcome.
If you'd like to help out and try adding some subtitles, doing so is simple: Go to the Vodka Rocks! video page (HERE) and select a video. At the bottom of the video should be a tab that says "Subtitle Me" – click that, and then simply select the language the video is in (English) and the language you are writing subtitles in.  After that, you can just follow the simple steps laid out clearly by the site.
We appreciate all the help and support that our fans give us.  If you want to help us out with subtitles, we'll be sure to give you a shoutout for your help on Facebook and Twitter, and give you our most sincere thanks!
Here's an example of what the subtitles look like- isn't it nice?
VODKA ROCKS! director John Rubino recently spoke with Comic Book and Movie Reviews about the origins and creative decisions behind the film, as well as some more unusual questions about the film. Where did the concept for Vodka Rocks! come from? Why would Charlie Chaplin have been a great fit for the film? If Vodka Rocks! could be described with one smell, what odor would it be?
The answers to these questions, as well as many more interesting ones, can be found in their interview online.
http://www.comicbookandmoviereviews.com/2013/01/vodka-rocks-ads-suck-and-films-satirise.html#axzz2I3dHcAVV
The upbeat title track of the VODKA ROCKS! film is now available online for download, and for absolutely free. With a musical score by Michael Blake and featuring performances from musicians such as Steve Bernstein, Teddy Kumpel and Kelly Howard, the VODKA ROCKS! sound track contains a diverse mix of instruments and styles. From exciting car chase mixes to smooth jazz themes and percussion, each track manages to be distinct and memorable while still fitting together perfectly to form a unique soundtrack which will soon be available though Michael Blake's website.
Right now the Vodka Rocks title track can be downloaded for free through the following websites:
Soundcloud: http://soundcloud.com/vodkarocks/tracks
and
Bandcamp: http://vodkarocks.bandcamp.com/track/title-track
Additionally, VODKA ROCKS! will be streaming for free again on November 17th and 18th, so keep an eye out for our promotional code!
Skuflix's latest film, VODKA ROCKS!, is all about marketing and branding. And when it came to marketing our own film, we wanted to take it a step further than simply getting people to watch it: we wanted people to actually experience and acknowledge the impact of the film's themes, and witness firsthand the power behind marketing and branding on the everyday consumer. What began as a promotion for our film soon turned into a full scale experiment that surprised even us with the results.
VODKA ROCKS! tells us that there is power behind a product's brand and image. We wanted to put this idea to the ultimate test by seeing if people would buy into a product with a fancy logo and presentation, even if the content itself was worthless. We created a fake VODKA ROCKS! brand "0% Alcohol Content Vodka," thinking that as far as worthless products go, it's hard to beat a vodka without alcohol in it. But we hoped that maybe, if presented in a nice enough bottle with a professional looking logo, some people would be willing to try it.
For several weeks, we took our fake vodka product (which was really just water with a little bit of flavoring and coloring) to the streets of Williamsburg and Dumbo, Brooklyn, to see how the public would react. Every week, we were astonished with the results. Not only did people come rushing over to try our product, but many even complimented it or showed interest in purchasing it. Even those who did not compliment it at least accepted it as a real product and never questioned its legitimacy.
To take the experiment one step further, we tried the same thing without the logos and branding. Walking around with an unmarked bottle of the same product, we found that nobody was willing to try it. Simply put, they didn't trust it. The conclusions we drew from this were clear: people will put all of their trust into a logo or a brand name, even if it's one they have never seen or heard of before.
VERMIN SUPREME will be joining us to share his words of wisdom on "actitainment" on April 24th at the Jalopy Theater in Brooklyn! "Actitainment" is a combination of activism and entertainment. And who better embodies "actitainment" than Vermin Supreme?
Vermin Supreme has been running for president for a couple of decades now and he gets more and more popular each year. So, if you find yourself with a free pony after the next presidential election, don't be surprised. And that's not all! A pony is the least of your perks with Vermin as your new president. The self proclaimed "friendly fascist" will establish dental hygiene laws and zombie awareness. The biggest threat our country faces today is not Iraq, or North Korea, or terrorists, or Brits, it's gingivitis and the undead! And Vermin is going to declare war on them. He is also going to fund time travel research.
On April 24th at the Jalopy Theater, we will engage Vermin in a heated discussion about the movement of activism and entertainment, how it came about, his opinions about it, who it targets, and how it affects him. There will be other panelists at the event with him that will give their input as well. Along with the panel discussion, there will be a social media and vodka competition with awesome prizes!
Tickets will go on sale shortly. Follow us on Facebook and Twitter for more updates regarding this and other events. Check out the links below for more info on Vermin and his policies and the Jalopy Theater!
Vermin Supreme:
http://www.verminsupreme.com/
http://en.wikipedia.org/wiki/Vermin_Supreme
Jalopy Theater:
http://jalopy.biz/
New York Times Review of Jalopy Theater:
http://www.nytimes.com/2012/03/11/nyregion/at-the-jalopy-banjos-fiddles-and-a-joyful-ruckus.html
"Vodka Rocks!" Website:
http://www.vodka-rocks.com/
"Vodka Rocks!" Facebook page:
http://www.facebook.com/pages/Vodka-Rocks-The-Movie/164543293641906
"Vodka Rocks!" Twitter page:
@vodkarocksmovie
Vodka Rocks! will have its Kickstarter Premiere at very cool venue Jalopy 315 Columbia St in Brooklyn on March 20, 7:45. Free to Kickstarter donors and crew & cast.
You can buy tickets here:
Program:Performance by G.R.A.S.S., the ska and reggae band featuring on sax Michael Blake who wrote the score for Vodka Rocks!
Vodka tasting
Twitter competition
Screening of Vodka Rocks!
Q&A with director John Rubino, DP James Callanan, Music Composer Michael Blake
For more info/questions, call or email +1.917.300.9752 or skuflix@gmail.com.
Welcome to WordPress. This is your first post. Edit or delete it, then start blogging!
Recent Posts
Archives